1000 Flavors of Heavy: Welcome to Earth!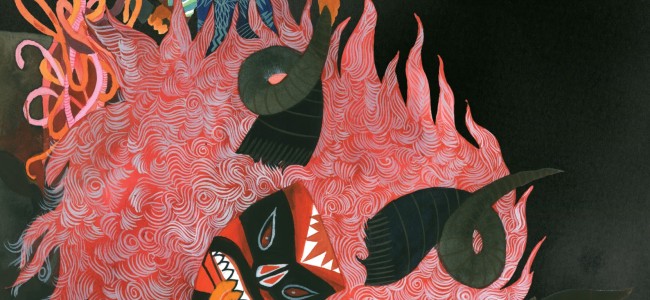 By this point — 21 years into their career, and six into their remarkably rewarding and productive stint with Southern Lord — you know pretty much what to expect from Earth.  Droning, syrupy riffs delivered in a heavy-minimalist style, echoing guitars over a humming bottom, a crushing low end over a wavering high end repeated in a way calculated to abet altered states of consciousness.  That's been the pattern especially on Hex and the fantastic The Bees Made Honey in the Lion's Skull, and their new LP, Angels of Darkness, Demons of Light Volume 1, due out later this month from Southern Lord, doesn't disrupt it too heavily, although the entire experience has just enough of a parallel-universe vibration to make it distinctive.  Five tracks, none shorter than seven and a half minutes, all with ragged, fuzzed-up guitar and stuttering drum accents, make what's meant to be a double album (with Volume 2 scheduled for release sometime this spring) sound more like a companion piece to Lion's Skull.  Dylan Carlson has talked in interviews about the debt Angels owes to British folk and native African music, but while the international flavor is definitely present, to my ears it's more traceable to Ennio Morriconne's psychedelic Western compositions, Dirty Three's outback minimalism (particularly on "Old Black", with its fatal-sounding strings), and Carlson's own collaborations with Richard Bishop of the Sun City Girls.  A few of the longest pieces (the title track and "Father Midnight" especially) could almost be mistaken for some of Neil Young's bleaker, heavier guitar excursions; there's definitely an electric-Western vibe that puts one in mind of Morriconne and Dead Man.  Arguments over influences aside, though, this is another terrific album from Earth, a worthy follow-up to Lion's Skull and heavy enough (listen to the guitars on "Descent into Venus" if you don't think Earth is still a metal band) without sacrificing their unique identity.  I can't wait for the second volume.

BONUS: Released late last year but unfairly slept on, Magrudergrind's Crusher EP deserves a lot more attention than it got, particularly since you can get it for nothing.  It was released as a free download to promote the debut of the Scion A/V label; while a blistering grindcore band might not seem like the best fit for a remix-happy boutique label sponsored by a car company, it's a better fit than it seems.  The DC trio have always been madly eclectic as far as grind goes, tossing in whatever influences, from hardcore to death metal, amused them at the time.  Crusher continues that strategy to good effect:  the first track, "Cognition", is a near-epic five minutes long and features some insane Electric Wizard-style soloing over its bedrock grind-doom; other songs, while much more brief, mix in Euro-style crust punk, and "Heaviest Bombing" even features a rapped coda, because, well, why not?  Worth getting even if you had to pay for it, there's no reason not to have this on your hard drive for the price of zip.

DOUBLE BONUS: One of the fun things about being a craggy old fuck is watching history repeat itself.  Only a few years after the thrash revival swept Europe and the west coast of the U.S., it's already beginning to mutate into various something elses, just like it did when it was just plain ol' thrash all those years ago and the people involved in the revival were just vague hopes in their fathers' groins.  One of the things that happened back then was Slayer's giving a nasty, brutal edge to thrash, while retaining the original form's irresistible propulsive energy.  No one's ever going to accuse Norway's Nekromantheon of being as good as Slayer, but they're doing something similar with the thrash revival, adding elements of death and speed metal to make something immensely fun and satisfying; if their new album, Divinity of Death (released late last year in Europe, but due out later this month in the U.S.) isn't anything you've never heard before, it's at least something you'll want to hear again, as they careen recklessly between thrash and guttural death.  They also make up for their terrible name with amusing song titles like "Alcoholy Terror" and "Gringo Death", and guitarist Arild Torp (ex-Obliteration) lays down riffs like he's about to expire.

TRIPLE KITTY BONUS:  The Destroyers of All, the new album on Willowtip from Kiwi extreme-death outfit Ulcerate, finally hit these shores last week.  Since their 2009 album Everything is Fire was one of my favorites, I was pretty excited, and it didn't let me down one bit.  Some personnel shifts signaled a change in the band's sound:  Ulcerate maintains the smart, complex, and absolutely powerful death-blast sound of their previous work, but they've added a ton of forward momentum; the overall sound is slower and more deliberate, but Michael Haggard's guitars have started to creep into some extremely heavy, but progressively more fascinating, atmospheric sounds.  The Destroyers of All obviously lifts plenty of cues from the post-metal of Isis and Pelican, but this band is not even a little bit interested in softening up or spacing out.  What they've done (anchored by the exquisite timekeeping of drummer Jamie Saint Merat) is to incorporate the screaming, flaying power of their previous work into a framework that allows them to flex their compositional muscles and fill out previously empty spaces with complicated and savage noise.  Incredible work from a band that's well worth watching.