Tasteful San Antonio: The Regreetening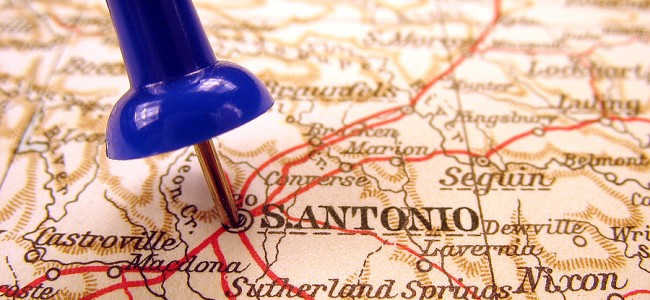 A new month is come again, and that can only mean one thing:  obsessive-compulsive replacement of various social media icons.  No, wait, it means two things!  It also means that Meetup.com, which I signed up for in far more optimistic times, will be sending me a list of activities it mistakenly believes are interesting enough to distract me from my hermitic existence.  Show me what you got, Meetup!
R-U-N!  Are you in?
N-O!
Alamo City Rivermen Canoe & Kayak Club San Antonio River Authority Riverwalk Run
As tempting as it sounds to pilot a canoe around a fake river for the benefit of the gawking tourists looking for something to distract them from their lunch special at Waxy O'Connor's Irish Pub, I'm afraid I'm getting my hair did that day.
March Wednesdays Thelema Study Group
This, on the other hand, is almost tempting enough to draw me out.  I'm not sure what, exactly, to expect from a group of San Antonians in the year 2011 who meet every Wednesday in March to study the teaching of Aleister Crowley, but I think I may have seen it in a Dan Clowes cartoon once.
San Antonio Small Studio Portrait & Glamour Photography Group Presents:  Lights, Camera, Svetlana!
There are only two possibilities here:  (1) Svetlana is a well-meaning, somewhat depressingly nice dowdy woman in her late 50s who will share her tips on taking photos of your family members for your scrapbooking hobby.  (2) Svetlana is the human-trafficked prostitute from Belarus of whom you will be taking "glamour photographs".
Ionized Water Demonstration
How, exactly, does one demonstrate water?
Hamburger Hunt (Presented By Senior Singles of San Antone, 55+)
I'm not old enough to qualify for this, meaning I will be spared what sounds like the spectacle of a bunch of confused, lonely elderly people trying to remember where they left a hamburger.  Still, I'll be living it soon enough.
San Antonio Nature Hounds:  Friday Night No Lights Walk in Bamberger Park
Wow!  Walking around an unfamiliar area in the dark with a bunch of strangers!  Sounds like a treat.  I'll bring the knives!
Hill Country Motorcycle Riders of Texas Meetup:  Let's Get Spirited!
Please, oh, please let this be a clever way of saying that they get drunk and tear ass all over the countryside on choppers.  Because otherwise, I have to contemplate the notion of people who are not in high school thinking it is a good thing to have "spirit".
San Antonio Cook Club:  Something Good!  Preferably Seafood!
Jesus, San Antonio Cook Club, be decisive.
ZUMBA – Inexpensive & Effective, Public is Welcome!  Not a university course.
Okay, I have nothing at all against Zumba, I just think it's hilarious, that "not a university course" line, like there are a bunch of snooty Ivy League courses that you normally have to take before they'll even consider letting you learn it.  "What?  All you have is three years of Jazzercize at UC Berkeley and PHYS ED 306:  Gender and Race Studies in Contemporary Taebo?  Sorry, lady, you're not ready for Zumba."  Also, this is listed in the "international folk culture" section of Meetup.com.
Hydraulic Fracturing in Eagle Ford
Finally, a group that shares my interest in the technique of using well bores drilled into reservoir rock formations in order to increase the rate of recovery of natural gas and oil from shale rock and coal beds!
Freethinkers Association of Central Texas (F.A.C.T.) Celebrate Hypatia Day!
This is probably Hypatia, the ancient Greek mathematician, and not Hypatia Lee, the pornographic actress of the 1980s.  So, I think I'll pass.
lunch
This is the title of the only event offered by the San Antonio Dutch Speakers Meetup Group.  No information, no come-on, no fancy title — not even a capital letter.  Unlike their last meet-up, in December, they even picked a word that is the same in English as it is in Dutch.  Amazing.  Hond in de goot, guys.  Hond in de goot.