Snake Tube Boogie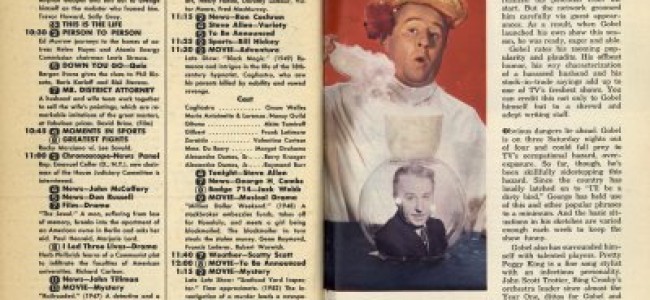 Wednesday, Sept. 11
5:00 PM
(CBS2) News
(NBC5) News
(ABC7) News
(WGN9) Sabrina the Teenage Witch: Sabrina is drowned by the townspeople for consorting with the Devil.
(PBS11) I Can Slaughter That!: home butchery.
5:30 PM
(PBS20) Charlie Rose: Charlie interviews the song "Joe McCarthy's Ghost".
(WCIU26) Let's Laugh with The Darkies
(FOX32) I Was a Teenage Narcissist
(PAX38) Shop 'Til You Plotz
(TELE44) ¿Cuánto está ése en dólares?
6:00 PM
(UPN50) Malcolm in the Middle: Malcolm's mother dreams of contracting cervical cancer and running a sex toy empire.
(WXFT60) Mi preferida mula de drogas
(WJYS62) Paid programming: TV's Conrad Bain returns from the grave to tell viewers the benefits of CitraSolv.
(UNI66) Miembro del Fantasmo de Mama
(A&E) South American Pitfighting Memories
6:30 PM
(ABCFAM) Thems Olds
(AMC) Sheezy Rider (**, 2013) Method Man & Redman take off on bikes to find America, or at least the parts of it with liberal possession laws.
(APL) K-9 to 5: King and Fido face sexual harassment from their new trainer.
(BET) Movie For a Funky-Ass Wednesday
(BRAVO) The West Wing: President Bartlet naps, reads lengthy and tedious farm bill.
7:00 PM
(CLTV) News: special guest anchor Vincent Gallo.
(CMT) The Next Gas Station P.A. Superstar
(COM) White Collar Comedy Tour: Mid-level managers tell jokes about accounting, outdated personnel records, parking spaces.
(COURT) The Forensic Myriapodologists
(CSN) Indoor Junior Girls Wheelchair Water Soccer
7:30PM
(TOON) Yu-Gi-Oh!: Chaos reigns when a newspaper ad for discounted booster packs proves to be erroneous.
(DISC) Muzak Mafia
(E!) The E! True Hollywood Story: Allyce Beasley.
(ESPN) College Basketball: Watsamatta U. vs. "College".
(ESPN2) PSDA Grand National Sheep-Drowning
8:00PM
(ESPNC) SportsCentury: Classic racial taunting action. This week, the 1947 Philadelphia Phillies & Bill Russell's crapped-on bedsheets.
(EWTN) Daily Mass: Sister Angelica calculates how much parishioners would weigh on Jupiter.
(FOOD) Emeril Live: Emeril's guests include a team of paramedics who use a defibrillator on him after he kicks it up one too many notches.
(FSN) World Series of Poker: features winners from the Super Bowl of Spit In The Ocean.
(FX) The Principle (*, 1988) Jim Belushi plays a never-was whose famous brother got him his pitiful career. "Jon" faces a crisis when he refuses not to do a nude scene.
8:30 PM
(GOLF) Rich Asshole's Loud Pants
(HALL) Touched By an Angel: Jered Weaver is brought up on pederasty charges.
(HIST) Here Come the Nazis
(HSN) Somersize: Suzanne hocks XXL lingerie.
(LIFE) One Woman, A Million Tears: The Paulette Hufnagel Story. Jean Smart stars as a suburban housewife who is accidentally separated from her daughter for nearly ten minutes.
9:00 PM
(MTV) The Real World: Mogadishu. Seven young Americans learn more about the real world than they ever anticipated.
(NICK) Full House: Danny tells Michelle that in twelve years, millions of men will be masturbating over her photograph.
(OXY) Sassback (**, 1997) Six southern belles engage in comedic alcoholism, domestic abuse.
(QVC) PMS Style: Fashion for people who would prefer to be left alone.
(SCIFI) Stargate SG-1: Consumers write complaint letters about the continual delays in the long-promised SG-2.
9:30 PM
(SPIKE) WWE Raw: Big Bossman's astonishing comeback.
(TBS) Family Guy: Peter's father spends the entire family fortune on worthless baseballs.
(TLC) America's Ugliest Kitchen: Interview with Denis Kitchen of Kitchen Sink Press.
(TLN) Little House on the Prairie: The house becomes much littler when Cornelius Vanderbilt buys much of the surrounding prairie.
(TNT) NBA Basketball: Washington Wizards vs. Milwaukee Bucks as Nene Hilario squares off against Zaza Pachulia.
10:00 PM
(TRVL) Niagara Falls: Tips for honeymooners, barrel-jumpers, profiteers.
(TVLND) Three's Company: Blah mistakes blah for blah.
(USA) Training Pants (***, 2002) Denzel Washington plays a brutal cop whose corrupt activities cause his new partner to soil himself.
(VH1) VH1 All Access: A trip inside Ted Nugent's bison-clogged colon.
(WAM) Whoomp Dreams (*, 1996) Tag Team futilely dreams of a comeback.