When Fights the Dane!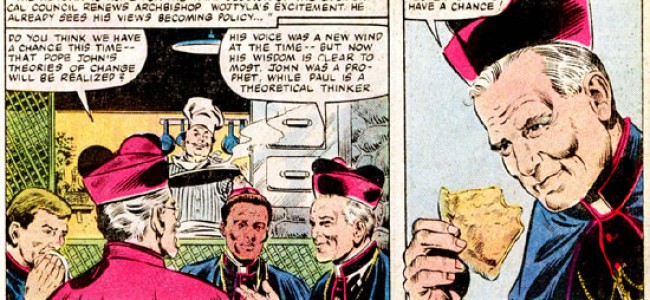 PAGE ONE (eight panels).
Panel 1. KING CLAUDIUS, a devious look on his face, pours poison in one of the cups with one hand while twirling his mustache with the other.
CLAUDIUS: NOW THE KING DRINKS TO HAMLET! COME, BEGIN…AND YOU JUDGES, BEAR A WARY EYE.
Panel 2. HAMLET and LAERTES begin fighting with their death-foils. HAMLET smiles grimly as LAERTES' hair flails wildly behind him. We should be able to see LAERTES' cybernetic arm visible beneath his tunic.
HAMLET: I'LL BE YOUR FOIL, LAERTES! IN MY IGNORANCE, YOUR SKILL SHALL, LIKE THE HOME STAR OF MY NATIVE ANDROMEDA SYSTEM, SHINE BRIGHTLY…AS BRIGHTLY AS THE FLAME OF MY BURNING DESIRE FOR REVENGE FOR THE DEATH OF MY FATHER!!!
Panel 3. HAMLET strikes a mightly blow with his energy-powered death-foil. He smiles grimly as sparks fly from LAERTES' armored SuperSuit. OSRICBOT, the miniature android judge-drone, flits about in the air overhead.
OSRIC: A HIT! A VERY PALPABLE HIT!
LAERTES: NOOOOOOOOOOOOOOOO!!!!!
Panel 4. The battle continues, each using his grav-sabots to leap wildly through the air in a series of daring acrobatic maneuvers. GERTRUDE looks on, her chest heaving in her spandex corset, as HAMLET slashes another deft blow with his death-foil, smiling grimly.
HAMLET: ANOTHER HIT!!! WHAT SAY YOU?!?
LAERTES: A TOUCH! A TOUCH, I DO CONFESS IT!!!
Panel 5. GERTRUDE, shocked by this incredible turn of events, fans herself and reaches for a flagon of electro-mead, little realizing it is the one that the sinister KING CLAUDIUS has poisoned! He strains mightily to stop her, to no avail.
GERTRUDE: INCREDIBLE! HAMLET IS WINNING THE DUEL OF DEATH, EVEN THOUGH HE'S FAT AND SCANT OF BREATH! SOMETHING ABOUT HIS GRIM SMILE MAKES ME THINK HE COULD ACTUALLY WIN! THE QUEEN DRINKS TO YOUR GOOD FORTUNE, HAMLET!
CLAUDIUS: NOOOOOOOOO!!!!! DO NOT DRINK, MY LADY!!!!!
CLAUDIUS (THOUGHT): IF SHE DRINKS THE ELECTRO-MEAD I HAVE POISONED WITH THE VENOM OF THE SUPER-WHELK OF SIRICA IV, SHE WILL SURELY DIE!!!
Panel 6. As GERTRUDE collapses to the floor, LAERTES takes advantage of HAMLET'S confusion to unleash a dazzle-burst from his cybernetic arm. HAMLET screams in agony, smiling grimly.
HAMLET: MOTHER...! ARE YOU ALL RIGHT?
LAERTES:  HAVE AT YOU NOW!!!!
HAMLET: ARRRRRGGGGGHHH!!!
Panel 7. HAMLET, smiling grimly, strikes a fatal blow with his death-foil to the treacherous LAERTES — but too late! CLAUDIUS, standing over the body of the poisoned GERTRUDE, pulls from his cloak a laser pistol and levels it at HAMLET.
HAMLET: OH, VILLAINY! LET THE DOOR BE LOCKED! TREACHERY — I SEEK IT OUT!
LAERTES: ARRRRRGGGGGHHH!!!
CLAUDIUS: NOT SO FAST, HAMLET! I'M BOUND TO SEE YOU BLEED!!!
Panel 8. Just as CLAUDIUS is about to dispatch the Mighty Dane, THE KING'S GHOST phases through from behind and throttles him, allowing HAMLET the split-second distraction he needs to slay his villainous uncle with a blast from his Photon Crown. HAMLET smiles grimly.
CLAUDIUS: WHAT THE…?!?? NOOOOOOOOO!!! ARRRRRGGGGGHHH!!!