That Darn Cat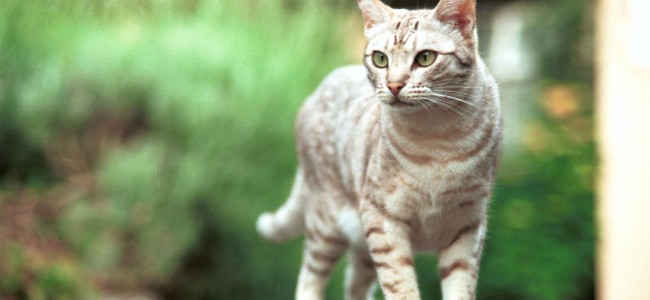 I AM DEEPLY HURT BY YOUR CALLING ME A MILK BABY. I AM NOT. BUT I AM A MONSTER. I AM THE "SON OF TWINKLES"
I AM A LITTLE "PUSS"
WHEN MOTHER TWINKLES GETS DRUNK SHE GETS FRISKY. SHE EATS HER CHILDREN. SOMETIMES SHE PICKS THEM UP BY THE SCRUFF AROUND THE LIVING ROOM. OTHER TIMES SHE PLAYS WITH THE CARDBOARD WE HAVE ON THE END OF A WIRE OUT IN THE GARAGE. TWINKLES LOVES TO DRINK MILK. TWINKLES COMMANDS ME TO BRING THE ONE WITH LIVER AND CHEESE WHICH IS HER FAVEORITE.
"GO OUT AND GET MEAT" COMMANDS MOTHER TWINKLES. BEHIND OUR HOUSE SOME REST. MOSTLY MICE -CHASED AND SLAUGHTERED- THEIR FLESH EATEN – JUST BONES NOW
MAMA TWINKLES NEEDS ME HERE IN THE HOUSE, TOO. I CAN'T GO OUT BUT I LOOK OUT THE BEDROOM WINDOW AND WATCH THE WORLD GO BY. I FEEL LIKE A SHUT-IN. I AM ON A DIFFERENT WAVE LENGTH THEN EVERYBODY ELSE – PROGRAMMED TOO SERVE. HOWEVER, TO STOP ME YOU MUST FIND ME. ATTENTION ALL POLICE: CATCH ME FIRST – CATCH ME QUICK OR ELSE. KEEP OUT OF MY WAY OR THERE WILL BE BIG TROUBLE!
MAMA TWINKLES IS OLD NOW. SHE NEEDS SOME MILK TO PRESERVE HER YOUTH. SHE HAS HAD TOO MANY RENAL FAILURES. TOO MANY RENAL FAILURES. "UGH ME LIVUR IT URTS SONNY BOY." I MISS MY PRETTY PRINCESS MOST OF ALL. SHE'S RESTING IN OUR LADIES HOUSE. BUT I'LL SHE HER SOON. SOMETIMES I WANT TO CRY OUT AT NIGHT BUT SHE SLEEPS ON MY FACE.
I AM THE "MILK THIEF" – "LIQUID LUCIFER" – THE "CHUBBY HOUSE WIEF".
I LOVE TO HUNT. PROWLING THE STREETS LOOKING FOR FAIR GAME – TASTY MEAT. THE WEMON AT JEWEL SELL ME FANCY FEAST THAT IS Z TASTYEST OF ALL. I MUST PROVIDE THE WATER SHE DRINKS. I LIVE FOR THE HUNT – MY LIFE. FOOD FOR MAMA TWINKLES. SHE DEMANDS TO RUN UP AND DOWN THE HALLWAY AND I MUST FOLLOW.
MR. RAVELLI, SIR, I DON'T WANT TO STEAL ANYMORE NO SIR, NO MORE BUT I MUST, "CARE FOUR THY ANIMAL COMPANION". I WANT TO MAKE LOVE TO THE WORLD. I LOVE PEOPLE. I DON'T BELONG ON AOL. RETURN ME TO YAHOO. TO THE PEOPLE OF ORLAND PARK, I LOVE YOU. AND I WANT TO WISH ALL OF YOU A HAPPY FOURTH OF JULY. MAY GOD BLESS YOU IN THIS LIFE AND IN THE NEXT AND FOR NOW I SAY GOODBYE AND GOODNIGHT. POLICE – LET ME HAUNT YOU WITH THESE WORDS; I'LL BE BACK
I'LL BE BACK TO BE INTERRPRETED AS – MEOW, MEOW, MEOW, MEOW, MEOW, UGH!!
YOURS IN MISCHIEF
MS. MONSTER (RET.)
NOT KNOWING WHAT THE FUTURE HOLDS I SHALL SAY FAREWELL AND I WILL SEE YOU AT THE NEXT JOB. OR SHOULD I SAY YOU WILL SEE MY PAW PRINTS AT THE NEXT JOB? REMEMBER THE YARN BALL. REMEMBER THE TIME SHE CHASED THE WOMAN OR NO WAIT I MEAN PIDGEON. THANK YOU.
IN THEIR GAGGED-UP HAIRBALLS AND FROM THE PLAY TOWER "TWINKLE'S RECREATION" ONLY $0.33 A CAN.
HERE ARE SOME NAMES TO HELP YOU ALONG. FORWARD THEM TO THE INSPECTOR FOR USE BY S.P.C.A.:
"THE DUCHESS OF DANDER"
"THE WICKED QUEEN WHISKERS"
"THE TWENTY-TWO LITTER-MATES OF PERDITION"
"JOHN 'FRESH STEP' – CLAWER AND HISSER AT YOUNG GIRLS."
P.S.: M.R. PLEASE INFORM ALL THE SECURITY GUARDS WORKING ON THE FLEA COLLAR THEFTS TO REMAIN. STOP ME BEOFRE I SHOPLIFT AGAIN.