Just Another Beer Nerd from Chicago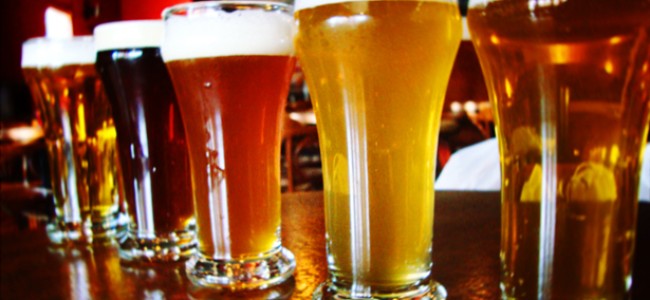 When I started drinking, there was no such thing as "craft beer".  If you didn't like the weak, watery, tasteless crap that passed for beer in America, you did one of two things:  you found a bar that carried foreign beer (Guinness, usually, maybe something exotic from Germany or, if you were really lucky, Belgium), or you drank hard liquor.  That's what I did most of the time.  When the craft beer revolution started, I hadn't had a beer in ages; I was too immersed in barrels of gin and Scotch to notice.
A few years ago, though, I had the very good fortune to move in with a woman who not only liked to drink, but knew craft beer pretty well.  Ever since then, we've been on a mutual adventure, visiting breweries wherever we found them on our adventures and tried to never drink the same beer twice.  I've kept a log of every beer I've had in the last two years, and this weekend I hit my 500th unique brew.  So why not become one of those annoying know-it-alls who tells you what his favorite beers are?  Herewith a list of the top twenty I've tried since 2015.
#20:  Hammerheart Gorm the Old Flanders Old Ale
Maybe my favorite brewery in the Midwest is this tiny little brewpub in Lino Lakes, Minnesota, a far-flung suburb of the Twin Cities.  They specialize in smoked beers, one of my favorite things in the world, and this killer beer from their genius brewmasters is a slightly tart, spiky Belgian oud run through with hickory smoke.  The result is a rich, fine, smoky ale that tastes like a campfire had sex with a chocolate stout.  An amazing concoction that's nothing like any other beer I've had.
#19:  Modern Times Fruitlands Passion Fruit & Guava Gose
San Diego's Modern Times brewery is the total package — good distribution, outstanding design and packaging, a good line of solid basic beers, and a willingness to experiment.  Their Fruitlands line is almost always worthwhile, but this one is basically everything good about them:  a solid gose base that doesn't scrimp on the sourness, beautiful nose, tons of tropical fruit flavor, but not too sweet or artificial.  This one is almost perfect.
#18:  Stevens Point Cascade American Pale Ale
Point used to be available in Chicago, but now, like its sister brewery in New Glarus, it's a Wisconsin-only treat, and I get it whenever I cross the northern border.  This is the beer that introduced me to pale ales and it's still a champ — crisp and strong with Cascade hops from the Pacific Northwest that give it a fine woodsy flavor.  It's also got a beautiful color and a clear, clean finish.  This is the closest thing I'd have to an everyday beer if I was that kind of a drinker.
#17:  Saint Arnold Fancy Lawnmower Kölsch
I'm hot and cold on Saint Arnold's stuff, but this one from the Houston brewer is clearly a winner.  Superb old-school German beer — it's almost a disgrace that the best German beer I've had in the 2010s is from Texas — with lots of flavor and flash, light but with a lovely clean finish.  I don't care for the term 'drinkable'; all beer is drinkable.  But this is the kind of simple but sophisticated brew that was made to be crushed over and over on a hot, sweaty day.
#16:  Marz Not-a-Problem American IPA
Marz may be the most underrated brewery in Chicago, a city rich with them.  Run by a fixture on the local scene for decades (and the man behind the great Lumpen magazine), they're one of those places that basically never puts out a bad beer.  This is one of the best American IPAs I've ever had — light and crisp, but deliciously flavorful with a complex head.  Produced for only a short time, it managed to beat out breweries that have been perfecting IPAs for decades.  Absolutely aces.
#15:  3 Floyds Icelandic Pants of the Dead Sour Ale
The folks behind Dark Lord put out a lot of short-run beers, and I'm lucky enough to get a crack at a lot of them.  Based on a foeder and built into a Brett-heavy IPA, this one was made just for my tastes:  a crazy funky nose and all kinds of tart, wild but fresh and heady.  Plus, it has one of the best names of any beer I've ever had.  I know a guy who works for 3 Floyds, and he's proof that they know what they're doing.  So is this fantastic sour.
#14:  Tahoe Mountain Rècolte du Bois Pluot Saison
I've been spending late summers at Lake Tahoe, which is how I came across this gorgeous little fruit saison.  I'm a sucker for Brett-loaded tart fruitiness; this isn't completely a sour, but it's got the citric acidity and the sharp edge to balance out the rich, lush taste of the pluot.  It's also got a lot of body and complexity that comes from being aged in Cabernet barrels.  Pricey as hell and hard to find, but extremely worth the trouble.
#13:  Sante Adairius Batch 3 Farmhouse Noir Saison
Another expensive rarity (this one's no longer in production) from a tiny California maker of exquisite vintage-style beers, this thing is a real delight that never goes where you expect.  It's got a chocolate nose, but the taste is a little funky; it has a lot of stout-like qualities for a saison, but it's also plenty tart and acidic.  Another barrel-aged number — this one in oak — it's got a really beautiful color and a super-complicated flavor.  Fantastic label design, too.
#12:  Perennial Suburban Beverage Gose
St. Louis' Perennial is another brewery that has a pretty sporadic rate of hits and misses, but this one just knocks it out of the park.  A lot of breweries have attempted a margarita-style gose, but this one is absolutely perfect, a winner in every way — gorgeous packaging, delicious balanced flavor, super-salty with a subtle hit of citrus, and a fizzy, light body.  Everything a gose should be, the hilariously named Suburban Beverage is.
#11:  Spoetzl Shiner Ruby Redbird
I developed a real taste for Shiner's product when I lived in Texas; maybe even too much of a taste, as I threw back enough of the stuff to gain about a hundred pounds and lose ten years off my life.  The Ruby Redbird was my favorite, a near-perfect summer beer that's light and highly refreshing with a mild grapefruit and strong ginger element adding flavor but not sweetness.  Even today, with my more moderated boozing, I could throw back a sixer of these without even blinking.
#10:  High Water 2015 Sugaree Maple Bourbon Pecan Pie
Chico, California's High Water comes up with some really unusual beers, and this is the best of them. I'm not usually a huge fan of dessert-style beers, but this one has plenty of kick from its base of a strong ale, and the flavor — a blend of sugar, oak, bourbon, vanilla, and pecan — can't be beat.  Great color and nose, and the body is nutty and creamy and smooth.  Delivers what it promises, but isn't just a hyper-sweet sugar bomb; this thing is as sophisticated as beer gets.
#9:  Propolis 24/14 Huckleberry Saison with Herbs Aged in Syrah Barrels
In little Port Townshend, an island town in the Puget Sound, the tiny Propolis brewery is another place that takes a fine wine approach to beer-making.  This was already way ahead of the pack with its perfect aging and complex Brett-heavy palate, but I goosed it even further by aging it another half a year.  The result is a tremendous nose, a tart near-sour flavor, a fruity citrus body, and a great herbal aftertaste. Worth the wait, and the kind of beer that only comes around once in a month of Sundays.
#8:  Goose Island 2015 Bourbon County Barleywine
Goose gets a bit of grief because they're basically one of the big boys now, but the Bourbon County releases are as legit as they come.  This one is even better than the stouts:  a ton of force to it, with a fudgy, oil-thick, amazing nose.  It's tasty as hell as strong as a tree; it mellows with time (I aged one bottle for a year) but retains its fragrance and complex, wonderful taste.  Intricate, heavy, and incredibly rewarding; you can absolutely believe the hype on this one.
#7:  Almanac 2015 Farmer's Reserve Pluot Wild Ale
What is it about pluots that makes such good fruit beers?  Maybe it's the blend of the apricot's mild sweetness and the plum's crisp tartness that leads it to make such a good combo in a sour.  San Francisco's Almanac, another brewery that almost never makes a bad beer, specializes in this sort of sour, and if anything, it's an improvement on the similar but distinct Tahoe Mountain Pluot Saison. Just sour enough to have a funky little edge, and tons of fruit on both the nose and tongue.
#6:  Fieldwork Mandarina Tart Saison
One of the two great breweries that's sprung up recently in Berkeley (the other is Rare Barrel), Fieldwork specializes in beers made with organic and regionally sourced ingredients.  They do good work, but this one is completely over the top — a solid saison backbone with a transcendent nose and tons of tartness, but everything yields to a simple but impossibly juicy citrus hop flavor.  A session beer that goes down as pure and bright as a big cool glass of orange juice.
#5:  Prairie Birthday Bomb! Stout
Commissioned for the Oklahoma brewery's third anniversary, this little wonder takes their Bomb! stout, already one of the best and most reliable heavy beers in America, to a whole other level.  Creamy and rich and ridiculously tasty, there's nothing subtle about it — this is straight-up dessert in a can — but if you save it for rare occasions of indulgence, it doesn't get any better.  Smooth, mocha-like coffee base with frilly spices around the corners and an incredible centerpiece of thick, sweet caramel.  Insane.
#4:  Hammerheart Thor's Imperial Porter
I have to be careful with porters. Something about them really knocks me on my ass, even moreso than strong stouts or barleywines.  This one adds the further kick of smoked chili to what's already a potent, perfectly crafted imperial porter, making it a combo blaster that cannot fail.  Rich complex taste blending lots of smoke and spice, a gorgeous color, a strong pure nose and head, and all put together with amazing balance.  Demands a complete rethinking of porter.
#3:  Goose Island Fulton & Wood C.A.L.M. Radler
For some people, radlers and shandies aren't really beer, but those people can go to hell, because if radler isn't beer, why is this such an incredible beer?  Originally, it appeared in a Chicago-only version called 312 Urban Radler that was only dispensed at special events and festivals, but it finally got a limited release in retail under the specialty Fulton & Wood label.  Refreshing, light, cool, and with perfect balance of cucumber, lime, and subtle mint, this is a spectacular summer quaff.
#2:  Almanac 2015 Farmer's Reserve Citrus Wild Ale
Another of the unstoppable Farmer's Reserve series from Almanac, this one appeals not because it uses an exotic fruit or a delicate balance of flavors, but through its pure simplicity:  it's nothing but a perfect American wild with just enough tart lemony citrus (c0urtesy of California yuzu) to brighten the corners. This is pure sour perfection, not too puckered but just spiky enough for the citrus to give it flavor and polish.  A beautifully simple idea exceptionally well-executed.
#1:  Hammerheart Fautzrauch Citra Rauchbier
Maybe it's unfair that three of my favorite beers are the product of a small, hard-to-find midwestern brewery with limited distribution.  But that's just how life is sometimes.  The best brew I've had in three years is this stunning pale ale, made with spicy citrus hops for a nearly perfect foundation beer.  The extra comes in the form of Hammerheart's flawless smoking technique, which gives this one a delicous flavor and a smoky, complex finish like a fine lapsang souchong tea.   Creative, beautifully executed, and a pleasure to drink any time.