Wild as the Wind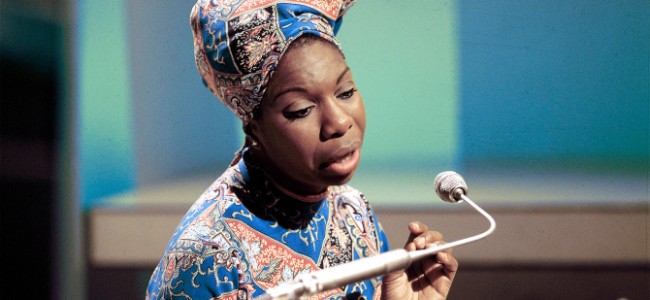 Nina Simone was such a singular and remarkable talent that the story of her success seemed almost inevitable.  The scientist Stephen Jay Gould once remarked that there was less to interest him in the folds of Einstein's brain than there was in the near certainty that people just as brilliant spent their lives toiling in obscurity in ragged fields or on factory floors, but Nina Simone's greatness could not be denied.  She was such a torrid force of will, such a concatenation of talents, that she could have been born in a remote cave submerged half under the sea and she would have found some way of making herself known.  And yet it was this very same combination of boundless talent and resolute determination that nearly sank the career that she build for herself, and very nearly killed her.
Bringing Simone's story to the big screen has been a contentious struggle.  A biopic directed by Cynthia Mort and released as Nina in spring of last year had a troubled development history, a shabby and ahistorical vision, and, most notoriously, an indefensible casting of Zoe Saldana in its lead role; it was met with almost uniformly hostile reviews.  Just a year before, though, the Sundance Film Festival opened its doors with Liz Garbus' vastly superior documentary, What Happened, Miss Simone?; after a wide release and an Oscar nomination, it made its way to Netflix and is now available for streaming.  It's an excellent piece of work, and a powerful and essential music documentary made at a time when such films are becoming predictable and commonplace.
The movie begins with footage of one of Simone's more confrontational late-period performances, in which she eventually stops a song midway through and refuses to go on until a woman in the audience takes her seat.  What Happened? makes no bones about its subject's reputation as a difficult and even dangerous woman; any fears about the honesty of its portrayal given that Simone's daughter Lisa Kelly is its executive producer are immediately dispelled in this plain-speaking film.  Simone sacrificed greatly for her art, and she insisted that her fans give it the respect she felt it deserved:  she had no tolerance for audiences that took her for granted, or behaved in a way that displeased her.  She wanted everyone to hear the music with the same emotional commitment that she put into playing it, and it greatly dismayed her that few fans were willing to extend her that degree of involvement.
From the very beginning, Simone demanded everything.  She wanted to be the first black woman to become famous as a classical pianist; while this didn't happen, it certainly wasn't because of any shortage of talent — she was an instrumentalist of astounding range, depth, and understanding.  She began to sing more or less out of necessity, and unlike her skill as a piano player, her vocal prowess was entirely self-developed — which makes it all the more remarkable that her voice is such a tremendously fascinating instrument.  And behind both voice and hands was an adept and brilliant mind that led her to write memorable lyrics and weave fluidly between a half-dozen styles of music:  jazz, rhythm & blues, gospel, funk, vocal pop, and soul were not only important parts of her arsenal, but disparate threads of American black music that she had absolutely mastered before she was 30 years old.
But that same brilliant mind brought her nothing but trouble, and that same vast talent put her in conflict with the very institutions through which it gave her a living.  As with many people, she had to suffer through a combination of bad luck, bad choices, and the simple conditions of life when and where she lived; but she was additionally hobbled by terrible insecurity, mental health issues included bipolar disorder and depression that were untreated for most of her life, and a family that brought her — and to which she brought — both great joy and profound misery.  She married young and poorly; her husband, an ex-cop who sounded like one, couldn't match her intellect, her passion, or her sexual energy.  He treated her like a property to be exploited, hounding her constantly to work harder, and while this made the couple a lot of money, it also exhausted her already-precarious mental state.  Worst of all, finding himself unable to handle her mood swings and bursts of rebellion, he treated them in the worst possible way:  with brutal emotional and physical abuse.
One of the remarkable things about What Happened, Miss Simone? — and there are many, including a solid structural narrative, a feast of revealing interviews and documents such as excerpts from Simone's diary, and heaps of previously unaired and undiscovered interviews (not to mention concert footage that clearly shows what mastery she had over her art) — is that it manages to make a fairly uplifting documentary about a woman who quite clearly was miserable for the great majority of her own life. Nina Simone was a frankly unhappy woman, and while Garbus is careful to stay far away from the tired theory that misery is what enables genius, she does make it pretty clear that, even if she hadn't had a spouse who treated her so poorly, happiness may have never really been in the cards.
Yet and still, she never stopped fighting:  at one particularly breathtaking moment, we hear Simone break down during a concert honoring the loss of Martin Luther King and lament "Oh God, we cannot take much more killing".  Her political convictions and her insistence on making the suffering of blacks in America front and center in her performances were not a pose or an affectation; she was dead serious, and she stuck by her guns even though it cost her dearly in lost revenue. She finally left America and never returned; it would be very hard to argue that we didn't deserve her, and that her departure was far more our loss than it was hers.  We didn't deserve Nina Simone; watching her at her best, as she often is in the documentary, suggests that really, no one did.