Put Me In, Coachella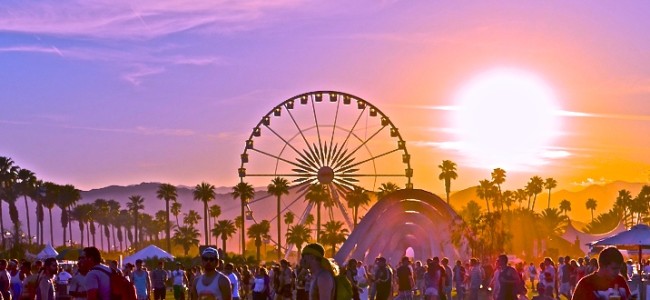 Recently, a meme was going around that your real age is 100 minus the number of bands playing at the Coachella music festival that you've actually heard of before.  In my case, this turned out to be 63 — a good number, placing me (as in real life) right at that sweet spot where you're basically old enough to retire, but are actually just unemployed.
But then I got to thinking:  I can do better than this!  Given my history, who better to review the remaining hundred musical acts without attending Coachella, or even having any knowledge whatsoever about the bands?  So this week, I'll present my thoughts on this year's line-up, starting with Day 1.
Travis Scott:  Ex-professional skater.  Strummed acoustic ballads about bipolar disorder.  Cheek stud and asymmetrical haircut.
Empire of the Sun:  Named after the JG Ballard memoir, but more sympathetic to the Japanese.  Mildly industrial. Bass player has complete collection of Shadowrun novels.
Dillon Francis:  From Orange County.  Another sensitive guy with an acoustic guitar and MAO inhibitors.  Album covers feature him sitting crosslegged on a seaside cliff.
Steve Angello:  Aggressive techno revivalist with battered laptop.  Father is a minor mob figure.  Keeps change purse full of roofies.
Phantogram:  Indie pop with goth overtones.  Almost wore corpse paint, but decided on candles on stage instead.  Deliberately cultivates image as being a 'difficult' interview.
Little Dragon:  18-year-old turntable phenom from Hong Kong.  Parents own large textile factory which causes him guilt, but he's too inarticulate to write songs about it.  Smiles nonstop.
BANKS:  Glitchy laptop dancetronica, as are all bands who spell their names with all capital letters.  One white guy and a Filipino.  Wear bright-colored hoodies with no undershirts.
Loco Dice:  Four white bros from a small town in Michigan who play blooze-punk with vulgar lyrics.  Read Vice for the 'post-racial' satire.  Steal mic stands from other bands.
Capital Cities:  Keyboardist and female vocalist who thinks it's a betrayal of her art to sing on key or with any emotion.  Suggest adjective "Nico-esque" to interviewers.  All-gray wardrobe.
Big Gigantic:  Fifth-wave ska band with some noise or electro gimmick.  Huge stoners.  Have literally eaten nothing but pizza since 2013.
Francis and the Lights:  Female-fronted British indie pop with 'quirky' singer.  Piano player can't wait to quit the band for a failed solo career.  Entirely affected cockney accents.
BROODS:  Glitchy laptop dancetronica, this time with a drone emphasis stemming from technical incompetence.  Has some kind of monster or ghost 'concept'.  Strictly GarageBand.
Sanpha:  Bhutan's greatest indie rock quartet.  Formerly Bhutan's worst Pavement cover band.  Gets nervous when weather is too windy.
BICEP:  Glitchy laptop dancetronica combined with Euro-style power metal.  Actually from St. Petersburg, Florida.  Wear red leather vests and aren't sure if they're doing it ironically.
Raury:  Originally a wizard-rock band who switched their gimmick right before getting the call for Coachella.  Songs all hastily converted to wistful shoegazer fuzz.  Will forget chords mid-show.
The Martinez Brothers:  Neither brothers nor named Martinez.  Three white guys from Albany.  Really loud indie rock honed in storage unit otherwise occupied by singer's dad's Porsche.
Oh Wonder:  Synth-heavy girl band from Canada.  Extensive collection of ugly sweaters.  Songs are mostly about toys they had as children in the late 1990s.
Stormzy:  Seapunk band formed by children of California state senator.  Like to talk about their "Sea-Doo aesthetic".  Guitarist mistakenly thinks they are only popular because he's so handsome.
Zipper Club:  Allegedly transgressive post-punk revival group.  Actually just like to wear discarded fetish gear and tell boring S&M stories in song.  Writing Erica Jong rock opera.
Tennis:  Scabrous lowlifes with trust funds.  Sleep in dumpster, eat in dumpsters, practice in dumpsters, invest with Goldman Sachs.  Drummer is addicted to previously unknown narcotics.
SNBRN:  Glitchy laptop dancetronica by burned-out beach kids.  Parents all have mid-level jobs in the entertainment industry.  Have eight different songs about Robert Altman.
King Gizzard & the Lizard Wizard:  Came up with band name when they were 11 and nobody has had the courage to suggest changing it.  Jokey stoner rock.  Lead singer is named Skobie.
Kungs:  Insufferable post-rock snoozemongers.  All of their songs have "theories".  At least one band member, possibly two, will die of radiation poisoning.
Floorplan:  Passable math-rock.  Set themselves a goal of being referred to as "angular"; was met in first college paper review.  Idolize Wire but don't care for their earlier work.
Denzel Curry:  Combines soul, jazz, and funk in unique way that is worse than all three put together.  Describes music as "Aphrocentric".  Goes through four horn players a month.
The Lemon Twigs:  '80s-style power pop/Paisley Underground revivalists.  Addicted to expired prescription drugs.  Cult following extends from northern California to central California.
Nora en Pure:  Biracial neo-soul crooner with sexy, husky voice.  Has it in her rider that she's allowed to yell at as many roadies as she wants.  Lots of colorful headgear.
Joseph:  Glammed-up EDM for the chronically sad.  Insists on being referred to only as "Joseph", including ban on all pronouns.  Lists Jobriath as biggest and solitary influence.
The Interrupters:  Salty urban kids who started a rock band when they were 13.  They are now 16.  Coachella will be their first trip out of town other than camp.
Sam Gellaitry:  Boot-wearing, drawling alt-country guy.  Is actually from New Canaan.  Wrote senior thesis on the silencing of the female voice in Hank Williams songs.
Klangstof:  Highly medicated German post-Krautrock trio.  On an extremely baroque regimen of pills.  Percussionist is a breatharian, or, if you prefer, a Breath Aryan.
Alison Swing:  Seven-piece all-male band from southern Indiana.  Just enough of a jazz fusion influence to be really annoying.  #1 influence:  Van Morrison's outfit in The Last Waltz.