Put Me In, Coachella – Part II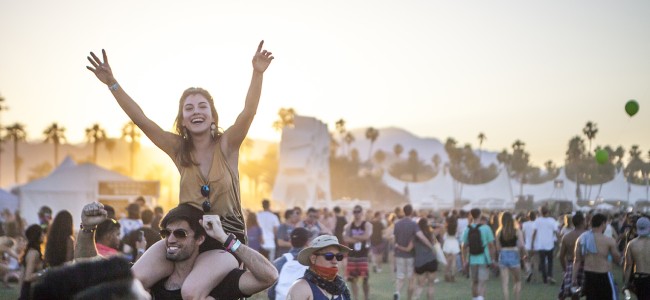 The Coachella Music Festival has been in the news lately, partly because it's just that time of year and there's never enough content to go around so somehow an overpriced outdoor concert is transformed into 'news', but mostly because of allegations that Philip Anschutz (the owner of AEG, the entertainment conglomerate that runs Coachella) has donated to organizations that oppose LGBTQ rights and engage in climate change denial.  I'm not sure why it would be news that a billionaire has donated to conservative causes, but, in a display of the same sort of ass-covering PR that led him to make the donations in the first place, Anschutz is now claiming that he will make big donations to gay and green organizations to prove his true intentions.  This kind of pointless back-and-forth is part of what makes capitalism so delightful.
Anyway, here's part 2 of my attempt to determine the nature and character of all the bands playing at Coachella in 2017 that I've never heard of, without consulting the internet in any way whatsoever.  Your Day Two lineup sounds pretty exciting!
The Head and the Heart:  Synth-punk duo who hate each other.  Constantly name-checking Baudelaire.  Singer always says of keyboardist, "He wants what he wants".
Two Door Cinema Club:  Three mild electro-folkies and one guy who's really into Blixa Bargeld.  Got their start playing at a 'brunch bar'.  All design school drop-outs.
Nicolas Jaar:  Dutch experimental electronica guy with tattered sweaters and spinal curvature.  Plays an 'acoustic synthesizer'.  Worst teeth of anyone at Coachella.
Tycho:  Wan British washouts playing a rarefied form of nostalgic Britpop.  Play against a backdrop of blow-up architectural blueprints.  Are bored with everything, including themselves.
Tory Lanez:  Peruvian-American tween pop sensation.  Four and a half feet tall, wears feather boas thrice that length.  Learned to sing from YouTube video of Mariah Carey's melismatic runs.
Local Natives:  Four guys who met in a marketing class at the University of Texas.  All wear $50 replicas of vintage t-shirts they could get at a thrift store for $3.  Songs about not wearing socks.
Majid Jordan:  Speech impediment gives her reputation for 'innovative' interpretations of R&B classics.  Will not confirm or deny she is illegitimate child of Michael Jordan.  Gauzy.
DREAMCAR:  Glitchy laptop electronica by handful of central Michigan dirtbags.  '80s synthwave throwbacks with robo-vocal lyrics about Camaros.  Four different ironic mustaches.
Róisín Murphy:  Wispy Celtic ballads for people who think Enya is too avant-garde.  The sound of making out while crying.  Real name:  Barbra Fink.
Moderat:  Danish band writing catchy guitar rock hits about filling out forms and being patient.  Wear polyester ties and brown shoes.  #1 hit:  "Sensible Immigration Reform".
Mura Masa:  28-year-old phenomenon specializing in Berber nose-dancing.  Accompanied by band of enthusiastic studio hands born in the 1940s.  Occasionally wanders off stage to forage.
Nav:  Nerdy trio from South Carolina playing forgettable power pop.  Sound like the Romantics if none of them had ever gotten laid.  Have a single Too Much Joy sticker on their bass amp.
Solomun:  White Canadian ex-programmer with dreadlocks.  Says his music is "dubstep, emphasis on the dub". Was once savagely beaten for mispronouncing 'Nyabinghi'.
Warpaint:  Stoner rock trio that drives around in a van with pink shag carpeting.  Are anti-vegan; will only eat meat and other animal products.  Have a branded THC energy bar.
Hot Since 82:  Another synthwave party band who play covers of John Carpenter scores, but in a major key.  Formerly known as "Rikki Drag".  Band goal is to do it with Martha Quinn.
Classixx:  Glam-inspired frat rock.  First album is Songs to Get Your Charter Revoked by the Administration.  Actually the same bank as Local Natives, with different haircuts.
Kaleo:  Sings nebulous version of worldbeat over library music.  Pretends not to speak English to get out of doing interviews.  It's pronounced "kale-oh", like the vegetable.
Breakbot:  Literally what the name says:  a small robot that generates breakbeats.  Made from two Technics turntables and a Roomba.  Currently seeking emancipation from its management.
GRYFFIN:  Glitchy laptop electronica exclusively influenced by young adult literature.  Got its start on the local competitive quidditch scene.  Are all in their mid-30s.
Daphni:  Frail blonde who got into music as a way of coping with fibromyalgia.  Formerly a grad student in veterinary medicine.  Has an on-stage fainting couch.
Brodinski:  Aging club kid trying to re-invent himself as a neo-darkwave performer.  Dead ringer for the blond guy from Contra.  Biggest hit is actually a keyboard demo.
Mitski:  Tiny Japanese woman who plays drop-tuned double-neck bass and pogoes around like a maniac.  Fanatic Mets fan.  Will soon be touring as part of supergroup with Daphni and Brodinski.
Floating Points:  Chapel Hill math-rock with guy who just mangles foil against a microphone.  Much older than they look.  Met while interning at the same failed tech startup.
Thundercat:  Cheesy retro New Romantic guitar/keyboard pop.  Sell five times more merch than music.  Record 8-bit video game soundtrack versions of all their songs.
S U R V I V E:  Glitchy laptop electronica played by detestable Spanish rich kid.  Once stayed up for nine days straight in Ibiza out of pure spite.  Working on a "Keurig for beats".
Arkells:  The world's only cyberpunk doo-wop revivalists.  Cheery, upbeat songs about posthumans and acid rain.  Wear matching letter jackets made of silvered Kevlar.
The Atomics:  Australian surf-rock combo made up of the grandchildren of South Pacific H-bomb test victims.  Pioneered three-guitars, one-guitarist musical attack.  Deeply disturbing.
Ben UFO:  Curious survival of the merger of a Ben Folds cover band and a UFO cover band.  Play to niche crowds of confused stoners.  Perfected subgenre of "chamber metal".
Bishop Briggs:  Actual former bishop in the Church of England, disbarred for militant stances.  Sings martial ditties about the threat of Islam.  Plays guitar in shape of a shepherd's crook.
Blossoms:  Effete psychedelic pop band from Boston. Majority of their equipment was purchased by lead singer's mom.  Lyrics about evangelical veganism, though band is not vegan.
Chicano Batman:  Not a band at all, but rather a confused Latino who dresses like Batman and patrols the stage for crime.  No one has the heart to tell him the truth.  Still better than Nav.
Autograf:  Arch Austrian indie pop.  Describe themselves as "post-musical".  No relation to the '80s glam metal band, though they do a cover of "Turn Up the Radio".
Moss Kena:  Described by critics as resembling a confused swarm of insects.  Deny music is improvised but have never played same song twice.  16 name changes and this was the best one.
Red Axes:  Heavily processed post-metal.  Shortest song is twenty-two minutes long.  Band does not agree whether name is plural of "axe" or plural of "axis".
Shura:  London School of Economics grad and freestyle revivalist.  Leading proponent of the unironic female Jheri curl.  Last name is not "Bouthat".
Honey Dijon:  California skate-rock instrumentalists.  Signed an endorsement deal with Vans both sides regret.  Named after favorite porn star, herself named after favorite chicken wing.
Eli & Fur:  Weary gay drill & bass duo.  Have complained about last 13 festival bookings while still managing to get invited back. Voted band you'd least like to share an airport shuttle with.
Swet Shop Boys:  Famously uncoordinated protest band.  Frequently unfurl misspelled banners mid-performance.  Are about 75% sure Jeb Bush won the 2016 presidential election.
Chris Cruse:  Soft rock neo-folkie with pretensions.  Wants to be yacht rock, but isn't very good at financial planning, and is from Missouri.  Nonetheless, wears a mean navy blazer.