Put Me In, Coachella – Part III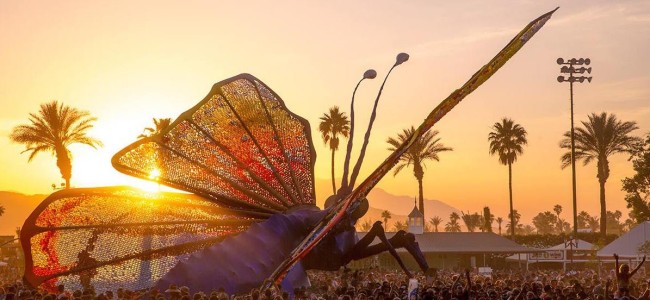 I don't really care for outdoor music festivals.  For one thing, I am a hundred and seventeen years old, and it is something that young people do, like smart drugs, the Banana Sprite Challenge, and being a well-dressed neo-Nazi.  It also robs being outdoors of its major appeal (peace and tranquility), and robs noisy rock concerts of their major appeal (not turning into a stinking muddy shithole if it rains).  Finally, there is no band in the world that is worth paying $900 to not hear because you were throwing up in a Port-a-John.
All of which is to say, I will never, ever go to Coachella.  But that won't stop me from presenting part 3 of my series where I try to summarize the nature of this year's acts that I've never heard of before.  I think my success rate is equally as good as your chances of enjoying yourself at a festival concert!
Porter Robinson & Madeon:  Former third-string point guard for the Sacramento Kings and his much younger girlfriend.  Half-assed electro-funk.  Disliked by Stephen A. Smith.
Marshmello:  Farty synth-pop from Colorado.  Went from being ironically wholesome-seeming to just actually wholesome.  Still maintain a MySpace page.
Galantis:  Horrid blend of jazz fusion and salsa music.  Drummer is Guinness-certified as the world's fattest.  Name was originally "Galactus", changed after threat of lawsuit from Marvel.
Kehlani:  Forgettable contemporary R&B with lots of butt sex references.  Cites primary influences as "Sia, Madea, and Aaliyah".  Former Disney Channel summer replacement.
Kaytranada:  Double-majored in History of Trip-Hop and Hotel Management.  Invented the foot-operated turntable.  Tours with sister, female vocalist Endulisha.
A Tale of Us:  First, but not last, band who originally met at  a renaissance faire.  Self-described "medieval folk revivalists".  Favorite comic is Strangers in Paradise.
Tove Lo:  Sweden's most notorious gangsta rap group.  Once spent almost five weeks in prison after a series of brutal drug murders.  Smuggles craft beer to Denmark.
Jack Garratt:  Smoky-voiced television star with side line in acoustic guitar strumming.  Wrote his own theme song.  97% chance it's pronounced "guh-ROT".
Klara:  German indie-pop.  Lead singer resembles Blossom, only all grown up.  Host a TV series back home where rhinos and zebras made of felt explain free market economics.
The Belleville Three:  The world's only Uncle Tupelo cover band.  Also contains two members of Uncle Tupelo.  Prefer getting around on old-time pennyfarthing bikes..
Maya Jane Coles:  Female singer-songwriter whose work is sold exclusively at Starbucks, to people who work at Starbucks.  A Tracy Chapman imitator at a time when the nation is in need.
What So Not:  Indie rock trio from some college town in the Northeast. Own no t-shirts with sleeves.  Winner, 2017 Coachella !!! Memorial Cup for Least Searchable Band Name.
PNL:  Glitchy laptop electronica by three guys with lumberjack beards.  Cascadia activists (name stands for Pacific Northwest Liberation).  Self-described "asexual hetero bears".
NAO:  Glitchy laptop electronica by three different guys with lumberjack beards.  Anti-Cascadia activists (name stands for Northwestern Anti-Secessionists Only).  Flannel-of-the-Monthers.
GoldLink:  Band created for and sponsored by an on-line gold exchange company.  Big hit was "We Will Buy Your Dookie Rope".  Formerly the 1-877-Kars-For-Kids Band.
Allah-Las:  All-girl teen Islamaphobic doo-wop.  Funded by Pamela Geller.  Band most likely to start rock-throwing riots if they ever tour Lebanon.
Marcel Dettmann:  Belgian specializing in chillwave.  Voted "Most Relaxed Man In Ghent" seven years running.  Wears a different smoking jacket for every day of the week.
SOFI TUKKER:  Glitchy laptop electronica from the Ukraine.  Smuggle grenade launchers between club dates.  Describe themselves as "the last of the red-hot xenophobic nationalists".
Whitney:  Runner-up on 9th season of American Idol despite having no memory of being on the show.  Whitest person to ever cover "A Change is Gonna Come".  Almost certainly from Arizona.
Patrick Topping:  Likes to say "of the Dessert Toppings".  Actually of the Orpington Toppings of Pratt's Bottom.  Thinks wearing a tie makes him "rogueish".
HONNE:  Glitchy laptop electronica from the Netherlands. Play the same song with minor variations for two hours and hope no one will notice.  The official band of technocracy.
Tourist:  Pop-punk band from obscure San Diego suburb.  Use the word 'sheeple' at least three times on every album.  For people who find Green Day too complex and subtle.
Preoccupations:  Glum post-goth.  Favorite venue is empty houses in abandoned real estate developments.  Will break up after Coachella and partially reform as Postoccupations.
Hannah Wants:  '90s alternative survivalists.  All videos feature the moon wearing unusual headwear.  Biggest influence:  Natalie is Freezing.
Anna Lunoe:  Nonspecific protest folk.  Claims to be descended from seven different Native American princesses.  Studied windmill dancing under Stevie Nicks.
Grace Mitchell:  Sister-act crooner from the 1940s.  93 years old and deeply confused about where the other Mitchell Sisters are (they are all deceased).  No one knows how she got booked.
Show Me the Body:  Aggressive Christian metalcore.  Songs are equally about misguided damnation and University of Tennessee football.  Worst-smelling band on the ticket.
Jen Ferrer:  Seven-foot-tall acoustic freak-folk act.  Deliberately obscures her ethnic origins to maximize press coverage.  Occasionally breaks out a citole solo.