Sweethearts of the Air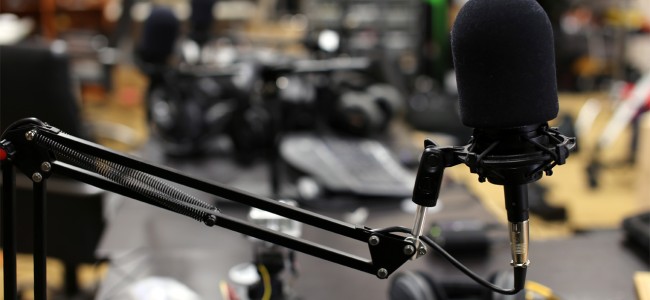 The podcast has risen from its humble beginnings, with primitive homo sapiens attempting to form a crude internet out of twigs and fire, to a dynamic multi-thousand-dollar business, with literally dozens of bored commuters tuning in on a daily basis to hear fascinating stories told in poor-quality audio in between ads for postal meters and knit undergarments.  Along the way, this exciting medium beloved by people who aren't allowed to listen to music at work has changed the very way we think about life, especially those parts of life involving hearing a stranger make fun of a bad movie we have never seen. Herewith, we present our picks for the best podcasts of 2016.
LIFE.  No podcast more precisely captured the zeitgeist of Trump-era America than Stan & Sateen Klubocher's Letters from Linda, in which they read on the air the confused, boastful, and frequently racist postcards sent to them by their elderly neighbor.  Linda Schweiber, who is mistakenly under the impression that she is on a Great Lakes cruise, has been mistakenly sending the Milwaukee couple angry and accusatory missives, generally addressed to her late husband Victor, for the last three years, and fans have been delighted to learn what new cultural trend, misperceived slight, or underprepared buffet item Linda will blame on the Jews next.
POLITICS.  American listeners weary of the seemingly hopeless political scene in their own country have really taken to KMP Beszélgetés, a hilarious and often insightful look at the quirks and foibles of the Hungarian Communist Party of the 1940s and 1950s.  Fans roll on the floor when they hear the latest misadventures of wacky brothers János and Jenö Kádár, and co-host Reggie Dingler's dead-on impression of Minister of Foregin Affairs László Rajk is a high point of the show.  Curiously, Dingler and his three unnamed cohorts are not Hungarian, and their comical mispronunciation of proper names caused a minor diplomatic flare-up earlier this year.
SPORTS.  Professional javelin-throwing is not one of America's most popular sports, but Fresno-based podcasters Jerry "Sticks" Fermin and Tony "800 Grams" Perlmutter don't let that stop them from putting out That Ain't No Spear!, their whimsical and irreverent look at the least popular part of the men's decathlon, every third Wednesday.  From their lively fantasy javelin league to their regular check-ins with wild, wacky Kenyan hurler Julius Yego, there's something for everybody on That Ain't No Spear, provided that they like javelin throwing.
MUSIC.  Limited by legal restrictions that keep music from being played in its entirety over the air, music podcasters have had to find creative ways to approach the medium. One of the most unique is Game That Tune, whose hosts challenge listeners to guess what song they are thinking of.  No music is played, no hints are given, and no prizes are offered for correct answers.  So far, Game That Tune is on its third season, and no one has managed to guess the very first song the hosts were contemplating. The show consists almost entirely of dead air, making it all the more curious that it is the #3 highest-rated podcast in its category, trailing just behind the venerable Forgotten Corpses of Punk Rock game show and the celebrity showdown, Please Hammer Don't Deport Them.
TALK.  Interview shows are some of the most popular podcasts in the country, and to stand out from the rest, you have to specialize.  Mariah Gulden's Language Barrier meets this requirement by way of refusing to book guests who speak any English whatsoever and then attempting to get through each episode's two-hour run time by forging some means of communication.  She is rarely successful, which is part of the fun.  Gulden's hard-hitting questions, such as "Who are you?", "What do you do for a living?", and "I'm sorry, can you please repeat that, and slower?" have made Language Barrier a must-hear podcast.
SPECIALTY.  As podcasting continues to grow, there is room for more and more creative interpretations of what the medium is capable of.  On the extreme fringes of the podcaster's art sits, or rather reclines, Beauregard Nealon's Public Naptime show.  Nealon, who suffers from at least seventeen identified mental illnesses and substance addictions, spends an hour each week trying to get some sleep before he is ejected from whatever place he runs out of steam; viewers are addicted to the suspense of learning whether he fails and they must hear another manager patiently explain that sleeping under a display counter is not allowed, or whether he succeeds, and they will be treated to 45 minutes of loud, adenoidal snoring before the police are called.
CULTURE.  The Big Bluff is a hip consumer's dream come true:  three highly educated, pop-culture-savvy millennials passionately discuss the pros and cons of an obscure book, movie, album, or comic every week.  The panel's arguments can get pretty heated, which only serves to underscore the show's unique concept:  at least one out of every three shows features them discussing something that they have made up entirely out of whole cloth.  During one memorable episode, Google searches spiked for director Rohan Kerlansky's lost classic The Weave of Thunder before they admitted that Kerlansky had never existed.
CURRENT EVENTS.  Combining the approaches of several other successful podcasts, The McNeese/Arrow Report finds its hosts inviting a rotating selection of mid-level improv comedians into the studio to discuss news items from countries they have never visited and to speculate about what the people in those countries must be like.  The strangely aggressive lines of questioning from Jason McNeese and Rich Arrow have resulted in an atmosphere that The Daily Pod describes as "bemusingly xenophobic".
CRIME.  No genre of podcast is more popular right now hat true crime, and no true crime podcast is hotter than Mea Culpa! with Morlon Ragsdale.  Rather than recreating or investigating a crime to determine guilt or innocent, Ragsdale takes crimecasting to its logical extreme, randomly selecting guests and attempting to cajole them into committing a felony from a long list he keeps in his sweater vest pocket.  Mea Culpa! is currently on hiatus, but is due to return just as soon as Ragsdale plea-bargains down to a misdemeanor.