Two Hundred and Seventy Wheels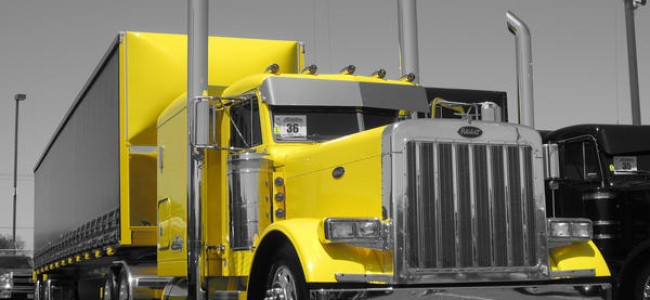 From the archives of Rig Pigs Fortnightly, thirty of the most likely current candidates for the Truck Driver's Hall of Fame.
PEYTON GROTE.  Running canned seafood all over New England and the Mid-Atlantic, Peyton was the first hauler to install an octophonic sound system in his rig.  Favorite Physical Graffiti side:  2.
HELL-HAULER HARRIET.  Servicing almost every fuel stop in greater West Texas, Harriet can be counted on to get there on time and intact even during tornado season.  Claims not to have slept since 1979.
"CORNY" COPPOLA.  Beloved by early-morning denizens of San Francisco vegetable markets, Corny lives up to his name and to his leather overalls.  Three-time cover model for Cheap Cigar Aficionado.
YUNG LO.  This pioneer of "truck drivin' rap" has logged miles all across the New South, and is known for his self-published Little Blue Book of truck stop coin-operated shower rankings.
LORETTA THE SWEATER.  Cardigan-clad cutie of the Tennessee Valley, Loretta is credited with the rockabilly revival of the 1980s, but not of the 1990s.  Her hitch-hiker gaydar is said to be unsurpassed.
SILVER BUCK.  Often encountered while delivering semi-fresh bananas in Big Sky Country, Buck Tulpa of Butte, MT has the rare talent of being able to play the harmonica masterfully while keeping both hands on the wheel.
JERRY THE JESUS-JUMPER.  A true evangelist of the road, Jerry has his entire sleeping cabin filled with Chick tracts and pocket Bibles, which he hands out at toll stops throughout the continental U.S.
RUNAWAY STAN.  Hailing from the furthest corners of the Bronx, Stan achieved legendary status when he drove the entire length of Colorado from east to west without ever once applying the brakes.
BEEFIN' EDDIE.  Named for both his reefer full of cattle sides and his ability to hold grudges for decades, Eddie Myrtkowicz still wants to have "a word or two" with "that son-of-a-bitch LBJ".
TEXAS RED.  This Hill Country Walmart delivery driver is the most notorious communist in the trucking industry.  His "Ten-four, nationalize my employer" is a familiar sound to CB enthusiasts.
STINKY THICC.  The meanest hauler this side of Detroit or the other side of Detroit (but not actually in Detroit), Stinky has not cleaned the cab of his truck since 1982, and he hauls toxic waste.
MARTY McPRIMP.  Marty, Orange County's most dedicated electronics man, is the opposite of Stinky Thicc:  he's willing to lose a week of lead time if it means all his chrome is spotless.  A life-model for Mr. Clean.
DULL DAN THE ICE CREAM MAN.  Beloved of children everywhere, Dan is respected as one of the country's greatest dairy hauler, but his inability to discuss anything but optimal reefer temps makes him America's least wanted at social gatherings.
LUCKLESS JOE.  Show him a tire, and it'll deflate.  Show him an off-ramp, and he'll miss it.  Show him a deadline, and he'll blow it.  Asked how he's been able to stay employed all these years, Joe simply shrugs and says "Politics."
TRUCKER BILL.  Thousands of drivers have met him; none can agree on his appearance, his rig, or even his name.  Thought to be the results of a misguided government experiment in the 1970s to create the perfect generic android trucker.
SONGS APLENTY.  No one has a more encyclopedic knowledge of trucker songs and the men and women who sang them than this Halifax-based hauler.  Sadly, tone-deafness kept him from pursuing a crooning career of his own.
JENNY ANYROUTE.  The greatest female ice road trucker of all time, Jenny never met a patch of frozen death or a perilous mountain hairpin turn she didn't like.  Has "RIDE HARD OR DIE" tattooed across her soul.
WINGS WOVENSTEIN.  Canada's best-known Sino-Hebraic trucker is a connoisseur of great cuisine and has compiled a useful guide to roadside lo mein and lunchtime latkes.  Refuses to drive on both Jewish and Daoist holidays.
MR. TIPS.  Best known for his long-running advice column in Big Wheel Picayune-Express, Mr. Tips knows every bend of every road in America, and every turn of the human heart.  Has saved more trucker marriages than methamphetamine.
GRADY MUGGS & SANDY SUGGS.  Western Tennessee's best husband-and-wife trucker team are legendary for their Nick-and-Nora style partnership, their unforgettable CB banter, and their mutual love of bare-hand noodling.
APPLES N. ARSENIC.  Every month, Apples cleans out his trailer and opens it up to neighborhood kids after filling it with holiday-appropriate trappings:  skeletons and pumpkins for Halloween, shamrocks and potatoes for St. Patrick's Day, and dishwashers and hot tubs for National Plumbing Fixture Awareness Week.
GOLETA SLIM.  "America's Best-Educated Trucker" took the job to supplement his income when he was trying to get his doctorate in Kampuchean Poetry in 1992, and has been at it ever since. Can be seen at rest stops burning his student loan payment notices.
HENRI LAHAQUE.  A French-Canadian grain hauler whose stalwart attitude belies his deep convictions to various implausible conspiracy theories.  Most call him a crank, but a few wonder what's in that sealed section of his trailer…
A.R. "ANTHONY" FARTS-GIBBON.  "Stony Tony", as he is sometimes known, is an advocate of dosing — every part of the journey, with every drug he can get inside himself.  "Safety first", he often says, just before drawing urine samples from a rare specimen of toad.
BENNY THE BOLT.  A modest and humble West Virginia trucker best known for his Uncle Fester-stye shenanigans, where he straps the lead ends of various electronics to his tongue and skin.  It doesn't work, but it's fun to watch.
PILLOWS MARVELL.  Also known, somewhat ungrammatically, as "One Tons of Fun", this hefty hauler from Oklahoma City always gets in on time, but has been known to "get high on his own supply", particularly when he's running a load from Hershey, PA.
HIGHWAYMAN LEARY.  The gallant, dashing poet-warrior of the interstate passion and romance to the grinding job of a freight trucker, and romanced many a waitress and dispatcher along the way, until he was sent up to Leavenworth for counterfeiting.
MERCY SHAKES.  Beautiful but deadly, this five-foot female dynamo left many a would-be hijacker or too-familiar truck stop Lothario in traction.  Retired in 1999 to become a WNBA referee.
SHANE THE PAIN.  "The Casanova of the Citizen's Band" is admired by many and detested by many more for his non-stop radio chatter about pick-up artist techniques, the threat of sharia law, and why evolutionary psychology proves that black people can't write symphonies.
SPLINT-KICKIN' CLINT.  A true rebel hero, icon of the New West, and lone wolf trucker extraordinaire, Clint Yaxley embodies everything majestic and proud in our noble profession. Originally known as Shit-Kickin' Clint prior to several related legal actions.