A Thousand Beers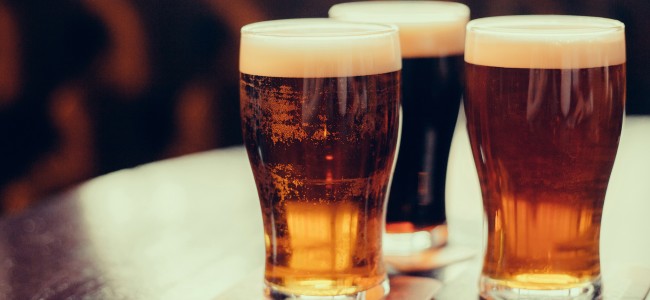 I have drunk a thousand beers. A thousand beers have been drunk by me.  Since I started keeping track in 2014, my drinking has encompassed a thousand beers.  "The Man Who Has Drunk a Thousand Beers" is what they call me in fashionable quarters; some ruffians in low spots prefer "Ol' Thousand-Beers Pierce".  In the tech sector, where I hold a great deal of influence, I am known only as "Beer1K".  I have learned many lessons from drinking all these beers, such as that beer is good; I enjoy drinking it; and I am very fat.  I will continue drinking them until such time as the craft bubble bursts, putting hundreds of overweight men with beards and no other job skills out of work; until that happens, please allow me to tell you about some of the best beers I have had.
MIKKELLER BEER GEEK VANILLA SHAKE (Mikkeller Brewery, Copenhagen, Denmark)
The "Beer Geek" series from this legendary gypsy brewer is rightfully praised.  I don't usually overdo it on rich stouts, especially since they've discovered using coffee in everything, but this one, with an oatmeal base and a supercharge of creamy vanilla, is mind-blowing in every way.  It's purely a dessert beer despite the "breakfast" marketing, and more than three would probably put you in a sugar coma.  But the flavor is just so spot on, and the skill with which it's made so evidently clear, it's worth seeking out even if you're not normally a bit leery of stouts.
PRAIRIE BIRTHDAY BOMB! (Prairie Artisan Ales, Tulsa, OK)
Tulsa seems like an unexpected origin for good beer, but Prairie puts out consistently solid ones, none better than this, their anniversary celebration.  It's a powerful stout, almost impossibly thick and heavy — it's like sweet soup — and it's flavored with a spicy-sugary blend of coffee, chocolate, hot pepper, and vanilla.  Just to make it even more indulgent, they add caramel sauce at the end.  Ridiculously over-indulgent and definitely the kind of thing that you should only drink once a year, this is still ludicrously tasty and shouldn't be missed.  Try it on your birthday.
GOOSE ISLAND 2015 BOURBON COUNTRY BARLEYWINE (Goose Island Brewery, Chicago, IL)
Look, folks, I'm not immune to a little hype, and around Chicago, nothing is more hyped than Goose Island's Bourbon County releases.  (Well, maybe 3 Floyds' Dark Lord.)  But the best one I've had of this hugely sought-after, always-limited bourbon-barrel-aged brilliance hasn't been a stout; it's their barleywines.  Rich and layered, thick and heavy with a ton of kick and flavor that isn't like anything else, the 2015 (which gets a slight edge over the 2013 in my book) truly benefits from the aging.  Not for the faint of heart, but if you can handle it, the payoff is huge.
SAINT ARNOLD FANCY LAWNMOWER (Saint Arnold Brewing Co., Houston, TX)
From the oldest craft brewery in Texas comes this, one of the most quaffable beers I've ever had. If I had to pick just one beer to drink for the rest of my life, this crisp but flavorful kölsch might just be it; it's not the deepest or most complex beer in the world, but in terms of sheer everyday drinkability, it's almost impossible to beat.  Sometimes you need something that's got nothing more going on but light, bright, and tasty, and for those days, especially those murderous hot late afternoons in South Texas, there's just no better for knocking back one after another.
ALMANAC 2015 FARMER'S RESERVE CITRUS (Almanac Beer Co., San Francisco, CA)
Almanac is one of those rare breweries (Marz and HammerHeart are others) where I've never had a bad beer. Even their lesser offerings are reliably good.  The Farmer's Reserve series, made with fresh local fruits and other ingredients, is always excellent, and the Citrus may be the best of the lot.  It's swimming with lemon, lime, and grapefruit flavors, tart and tasty but not quite a full-on sour.  It tastes like it just came out of the grove, and it's a perfect balance of a solid beer backbone and an addition that takes it way out of the ordinary. Simply perfect.
HAMMERHEART FAUTZRAUCH CITRA (HammerHeart Brewing Co., Lino Lakes, MN)
Smoked beers are extremely my shit, even the crazily heavy German ones that taste like a bottle of liquid salami.  HammerHeart is a brewery a bit north of the Twin Cities that not only specializes in smoked beers, but also, all their stuff is black-metal-themed!  How am I not going to like this?  It's a powerhouse IPA, pure and clean and jumped up with gobs of Citra hops, and then sent into the stratosphere by a strong dose of smoking to give it that campfire flavor.  Rauchbier is not to everybody's taste, but I could knock off a six of these and come back for seconds.
GOOSE ISLAND FULTON & WOOD C.A.L.M. RADLER (Goose Island Brewery, Chicago, IL)
This was originally released as a festival-only beer called "Urban Radler" and then they put out a very limited local run in bottles under this name; the initials form the flavorings — cucumber, ale, lime, and mint.  Goose Island puts out some remarkably good beers despite their macrobrewery status, and they aren't all Bourbon County barrel-aged darks; this is one of the lightest, most refreshing beers I've ever had, a perfect summer chugger given just enough complexity from the subtle flavorings to keep it from being boring.  I'll probably never see this again, but it's amazing.
UNE ANNÉE LE GRAND MONDE 2017-3 (Une Année Brewery, Niles, IL)
Based in a small, unassuming storefront in a generic strip mall way out in the Chicago suburbs, Une Année (and their sister brewery, Hubbard's Cave) specializes in incredibly rich, flavorful wild ales and sours built around bold fruit profiles. That's right in my wheelhouse, so I could have picked any number of beers from their "Le Grand Monde" series, but their third bottling of 2017, aged for a year in Chardonnay bottles and seasoned with fresh peaches, cinnamon sticks, and vanilla beans, is pure perfection.  Original and brilliantly executed, like a good craft cocktail.
FIELDWORK MANDARINA TART SAISON (Fieldwork Brewing Co., Berkeley, CA)
Fieldwork is a real Bay Area treasure; their stuff is always original, clever, and beautifully realized, with a heavy reliance on local ingredients.  The Mandarina Tart Saison is unquestionably the best thing I've ever had from them, and one of the best beers I've ever had, period.  A lot of strong IPAs and saisons brag about their juicy hop content, but this is legit like someone turned a tall cold glass of orange juice into a beer.  It's impossibly flavorful, and just tart and tangy enough to give it complexity but without an off-putting sourness.  A stunning everyday drinker.
HAMMERHEART THOR'S IMPERIAL PORTER (HammerHeart Brewing Co., Lino Lakes, MN)
I don't wanna make this entry just a huge love-fest for HammerHeart, but damn, they make a great beer.  I have a really standoffish relationship with porters; they're good as hell and have the complexity of stouts without the heaviness.  But they also get me so drunk my head spins.  That's my cross to bear, though, and I can't hold it against HammerHeart; they've delivered a fantastic porter as the base and then lightly smoked it to add depth and character. Dangerous but delicious.