Portfolio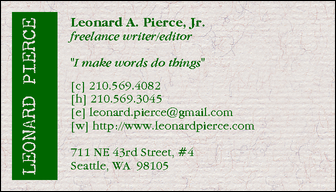 Leonard Pierce, the proprietor of this site, is also a freelance writer and editor with over 20 years of experience in a number of different formats, for trade and consumer publications.  He has written for 'zines, websites, daily newspapers, alt-weeklies, and local and national magazines, as well as advertising campaigns, training films, catalogs, brochures, and marketing materials.  He has contributed pieces to two book anthologies, with a third coming next year, and his first solo book project was published by Hal Leonard Books in fall of 2011. His second book, a collection of short humor, was released in summer of 2012.
Among the many types of writing at which he has shown excellence are trade magazine articles (features, profiles and business analysis); entertainment and culture writing (music, movie, television, book, and restaurant reviews, critical analysis, features, celebrity interviews, and profiles); advertising and marketing (ad copy, marketing copy for music and film packaging, and marketing brochures); technical and educational material (standardized tests, textbook copy, instructional video scripts, and training manuals), and humor and short fiction.  He is also an experienced speaker who has done presentations, public readings of his work, and numerous radio shows.
His editing experience is nearly as broad, and includes in-house and freelance work for a number of corporate, private and media clients, both traditional and online; he is well-versed in standard and house styles and specializes in clarity of message and ease of presentation.
Leonard is also an experienced production coordinator in the textbook publishing industry, with a wide range of editing, proofing, design, image management, and other skills, and a specialty in assessment.  He currently works for Concept.com in Seattle, WA as a content editor. He is also an experienced executive assistant, project director and planning coordinator with extensive computer, administration, human resources, training, and quality and environmental management certification skills.
Information about his employment and educational history can be found on his LinkedIn page, located here; if you'd like to consider him for full-time employment, e-mail him at leonard at leonardpierce.com or call (210) 569-3045 for a résumé, salary history, references, and any other information you require.
PARTIAL CLIENT LIST 
215 Festival/Philadelphia (featured presenter) * Acknowledge No Frontier (feature writer) * AllMusic.com (reviewer) * AlterNet (feature writer) * Austin Chronicle (events coverage, reviewer) * The AV Club (columnist, feature writer, interviewer, reviewer; contributor to the Inventory book) * Basrai Media (copyeditor, copywriter) * Blue Note Records (feature writer) * Blueprints magazine (columnist, feature writer) * Bully Pulpit Games (play set author) * Burning Ambulance magazine (feature writer, interviewer) * CapnWacky.com (humor contributor) * Chicago Reader (reviewer) * Chicago Tribune (columnist for MetroMix entertainment section; feature writer, interviewer) * The City Desk (fiction contributor) * Concept 2 Revenue (copyeditor) * Continuum Books (copyeditor) * Creators Syndicate (columnist, copyeditor) * Cursor (news writer) * Dr. Liz Alexander/Austin (copyeditor) * EMP Pop Conference/Seattle (featured presenter) * eMusic.com (reviewer) * Ethnic Arts Festival/Evanston (featured presenter) * Field-Tested Books by Coudal Partners (featured author) * The Formula, WLUW/Chicago (copyeditor, feature writer) * Funny Ha-Ha/Chicago (featured presenter) * GourmetSurvivalist.com (copyeditor) * The High Hat magazine (copyeditor, editor, feature writer) * Hobart Pulp magazine (fiction contributor) * Lawyerbear.com (humor contributor) * The Majority Report with Sam Seder/Air America Radio (featured guest) * Metal Edge magazine (feature writer, interviewer, reviewer) * Moonshinestill.com (fiction contributor) * Nerve.com (blogger for "Screengrab" film section; feature writer, interviewer, reviewer) * Phoenix New Times (reviewer) * Pindeldyboz magazine (fiction contributor) * Pitchfork.com (reviewer) * Ravenswood Properties (copyeditor) * Roadrunner Records (blogger, feature writer, interviewer) * The Rocket magazine (feature writer, reviewer) * Ross Dress for Less Stores (copyeditor, copywriter, scriptwriter) * SadlyNo.com (humor contributor) *  San Antonio Current (feature writer, reviewer) * San Antonio Man magazine (feature writer) * Sanitary and Ship magazine (fiction contributor) * Serious Eats (blogger, columnist) * SPEC-Diatribe Media Series/Chicago (featured presenter) * Spin magazine (reviewer) * Split Reel podcast (featured guest) * Time Out Chicago (reviewer) * Timothy McSweeney's Internet Tendency (humor contributor) * TV.com (columnist, feature writer, interviewer, reviewer) * Über (humor contributor) * Under Surveillance, WLUW/Chicago (featured guest) * UR magazine (events coverage, feature writer, interviewer, reviewer) * UtterWonder.com (fiction contributor) * The Village Voice (reviewer) * Wasted Words podcast (featured guest) * WhiteSoxInteractive.com (columnist, interviewer, news writer) * Zenbu Media (copyeditor, feature writer)